Achieve Financial Independence, Retire Early, and Stop the Climate Crisis!
Over the past month we have been posting a LOT about Canada's Carbon Tax Rebate (and our rebate calculator), so it's safe to assume you've calculated the amount of Carbon Cash you're getting back this year! But if you still haven't considered what you could do with your rebate, we've got your covered.
We chatted with Chrissy, the blogger behind Eat Sleep Breathe FI. She's a stay-at-home mom who is passionate about financial independence. After stumbling across Mr. Money Mustache, Chrissy got hooked and spent every spare minute pursuing financial freedom. Along the way she realized she wanted to share her resources and experience with others — and the Eat Sleep Breathe FI blog began! She also co-hosts a podcast called Explore FI Canada and you can follow her on Facebook, Twitter, and Instagram.
So let's dive into what Chrissy has to say about Canada's Carbon Tax and Rebate Initiative, what you should do with your rebate, and, of course, why protecting the planet is so important. Spoiler alert: these answers are super informative and you can just feel the enthusiasm for finances and the environment through the computer screen!
Q: What do you think of Canada's Carbon Tax and Rebate Initiative?
C: As one of the world's top ten polluters, it's time for Canada to take serious action on climate change. Implementing a carbon tax is one of the simplest, lowest-cost ways to accomplish this. Carbon taxes have been in use for years in many parts of the world (including my home province of BC). They've helped to reduce emissions without harm to the economy (and in fact, could encourage economic growth by stimulating new spending in climate-friendly industries).
Q: Why is the Carbon Tax and Rebate Initiative effective in combating climate change?
C: It's a proven way to lower emissions without harming the economy or costing Canadians more. The tax encourages us to shift our spending to less carbon-intensive options while the rebate allows us to spend our dollars as we see fit. For some, the rebate will help to neutralize the carbon footprint of our long commute. For others, there's an incentive to find planet-friendly solutions, then have more income to put towards the fight against climate change.
Q: What would you do with your rebate money that helps you live a more environmentally friendly lifestyle? Anything you recommend doing that both saves money and improves energy efficiency?
C: A rebate sounds like fun to me! I would consider the following:
Donate it to an organization that's making a measurable impact on climate change.
Eco-friendly upgrades for our house (more LED lighting, extra insulation, etc.)
Carbon offsets for my family's air travel (after thorough research and vetting).
As for saving money and improving energy efficiency, here are some easy ideas:
Plan ahead to complete multiple errands in one trip, using the most efficient driving route.
Strategically close curtains and blinds to keep warmth in or heat out.
Maintain your fridge and store food in optimal locations to reduce food waste.
Q: For those who like to save rather than spend, how would you recommend investing the money?
For most people, I recommend investing through a robo-advisor or in an all-in-one index ETF. These options are easy, low-cost, and allow you to set-it-and-forget-it. (Though, as a personal finance blogger, I encourage everyone to be hands-on with their money and investments!) If you'd like to tilt your investments to be more socially responsible, consider SRI funds or portfolios—such as those offered by robo-advisor Wealthsimple. Also keep in mind that some charities will accept investments in-kind, which means you can invest and donate!
Q: For those who want to donate rather than save or spend, do you have any recommendations on how to figure out which environmental causes or charities to support?
I would start by first considering what you value and want to accomplish with your donation. Next, think about the geographic location you'd like to support (local, provincial, developing countries, etc.) To find and evaluate charities and causes, consult websites like Canada Helps and Charity Intelligence. Alternatively, ask for suggestions from friends and family who are in the know or involved in climate action work. It may take some time and effort, but it's worth it to find the right fit for your charity dollars.
Q: Why is climate change action and living a more sustainable lifestyle important to you?
I was in my teens when I first learned about the destructive effects of human activity on our planet. Since then, I've been passionate about environmental causes and have gradually worked towards a more sustainable lifestyle. This is a big reason why I love and am part of the FIRE (financial independence, retire early) community. We advocate for many things that lead to a lifestyle that's less about consumption and more about living sustainably. Preserving the planet for all future generations (and ourselves) is a goal I strive for in my everyday decisions and actions.
Thanks so much for your awesome advice, Chrissy!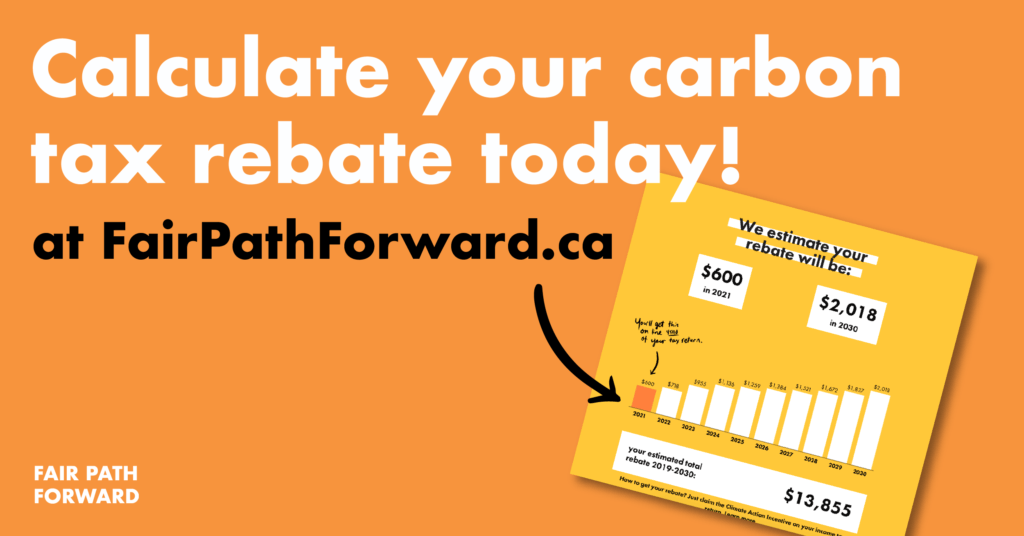 Be sure to follow our social channels for more daily tips & resources on how you can bring down carbon emissions.
Instagram: @fairpathforward
Facebook: Fair Path Forward